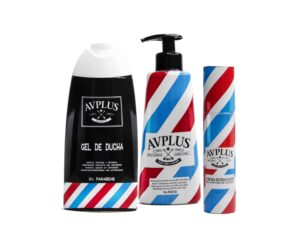 As temperatures drop and humidity in the air decreases with the change of the season, skin tightness and dryness is more common and we have to double our efforts to maintain healthy, glowing skin.
We recommend a three step skincare routine using our AV Plus Barber products that are enriched with aloe vera. Aloe vera is a medicinal plant that has been used for thousands of years to heal and hydrate skin. It has antiseptic, antifungal, and antimicrobial properties that calm skin with acne, redness and irritation. It also has anti-inflammatory and cell regenerating properties that help to revitalise dry, flaky skin.
Aloe Vera (aloe barbadensis miller), is the main active ingredient of the AV Plus Barber products for men's skin, beard, and hair and we source it from the Canary Islands in the Atlantic ocean which is famous for having the highest quality of aloe.
Our Skincare Routine for Men consists of three products: 
Aloe Vera Shower Gel which contains 50% aloe vera.
Aloe Vera 98% Serum & Shave Gel, which has 98% aloe vera.
Aloe Vera Face Moisturiser, which contains 50% aloe Vera.
We recommend this simple routine in the morning and evening that takes less than 2 minutes each time:
Moisten your face, then apply a small amount of Shower Gel to the palm of your hands and apply it. Massage for 15 seconds, rinse with water and pat dry.
The shower gel gently and effectively cleanses oily, dry or irritated skin and acne-prone areas. It also has anti-inflammatory and regenerative properties.
Apply the serum to already cleansed and towel dried skin, one to two pumps should be enough to apply all over your face, including in your beard. Apply around the eyes with circular movements and the rest of the facial skin by following the face's lines. On your beard, massage it in until you feel that the serum has been completely absorbed. 
The serum has a high concentration of active ingredients and absorbs quickly.  It treats the outer and inner layers of the skin, softens wrinkles, stimulates the renewal of the cell membrane and helps with the production of collagen in addition to promoting deep hydration.
Apply the face moisturiser. Following the same steps you've done above, we recommend to apply also in the neck area when treating your face.  
This moisturiser has a non-greasy texture and is easily absorbed by men's skin. Rich in vitamins and other active ingredients, it is formulated to hydrate your skin and fight the appearance of acne, wrinkles, and smoothing age lines.
At the end of each routine, your skin will feel nourished and hydrated, without any oily residue. You will also notice a natural and light masculine scent.